Huawei has launched its new wearable, the Huawei Watch Fit Mini, a trimmed version of its original model (the Huawei Watch Fit), which offers an excellent balance between performance and price. We have already been able to test it and we will tell you in this analysis how our experience has been.
Huawei Watch Fit Mini design
With dimensions of 51.52 x 25.91 x 11.04 mm, Huawei's Watch Fit Mini offers the possibility of having a very complete wearable on the wrist without falling into exaggerated dimensions. If you plan to use the watch to do sports or even to sleep and to monitor your sleep, the most compact models are the most interesting for the comfort they offer. In this case, Huawei does not disappoint and gives us a watch that, after a few days of use and when we get used to wearing it, we forget that we have it on. In addition, it is quite resistant, since it has the capacity to dive up to 50 meters.
In the design section, its screen stands out. With a rectangular format, it has a diagonal of 1.47 inch with technology AMOLED and 194 x 368 px resolution. In practice, these data allow us to enjoy a watch that looks perfectly both indoors and outdoors. In addition, we can choose between a wide variety of spheres to fully personalize our watch experience. There are more sporty spheres, others more focused on social aspects, others simply with the time … You decide which watch you want to wear today.
The screen is tactile, but it also has a button as a crown that allows us to return to the home screen with a single touch. We would have liked that this crown could rotate and that it also served us as an alternative to scroll through the menus, but in any case it is not something relevant. It allows us to enjoy the option always-on display, very useful, but also with a higher battery consumption. Rate if it is worth it.
Finally, note that the case has a very attractive and subtle slightly golden metallic color and that the strap is available in two materials: leather (white or brown) or fluoroelastomer (purple).
What can we do with this Huawei smart watch?
Wearables have advanced a lot and today they allow us to have almost complete monitoring of our physical activity and our health. Huawei, in this sense, works very focused on equipping its smart watches and bracelets with highly efficient sensors. And the truth is that it succeeds.
We highlight at this point the technology TruSeen 4.0 to measure heart rate, technology TruSleep to monitor sleep, technology TruRelax to measure stress levels and SpO2 sensor to control oxygen saturation in the blood (a value that has become "fashionable" in times of covid …). It also allows you to keep track of the menstrual cycle. All of this combines to offer us a huge assortment of possibilities when it comes to taking measurements of our health.
In the field of physical activity, we have 96 sport modes available. The graph during and after exercise is very attractive, very visual and allows us to see a very interesting summary of what we have done, from steps, distances, calories, time we have been burning fat, among others.
All this data is automatically transferred to the app Huawei Health so that we can keep a record of the record.
We have been testing it simultaneously with an Apple Watch Series 5 to assess whether the data obtained is reliable and both watches have coincided with a difference range of just 5%, so we can ensure that the measurement of the Huawei Watch Fit Mini works very well. .
Its most important fault is that it does not have GPS So if this is important to you, you'd better look at its older brother, the Huawei Watch Fit, which does have this feature.
Of course, we also have other extras like flashlight, alarms, calendar … Regarding the notifications, allows you to view them but not answer them, since it has no microphone.
Battery, synchronization and differences between Huawei Watch Fit Mini and Huawei Watch Fit
The battery leaves us very interesting data. We can have it fully charged in just under an hour and its autonomy is between 10 and 14 days, depending on whether we use it intensively (daily physical activity log, for example) or if it is more discreet.
As for synchronization, it is very simple, even if you do not have a Huawei mobile at home, all you have to do is link it via Bluetooth like any other device through the Huawei Health app.
If you hesitate between buying the Huawei Watch Fit Mini or the Huawei Watch Fit, the main differences are that the Watch Fit has slightly larger screen with GPS.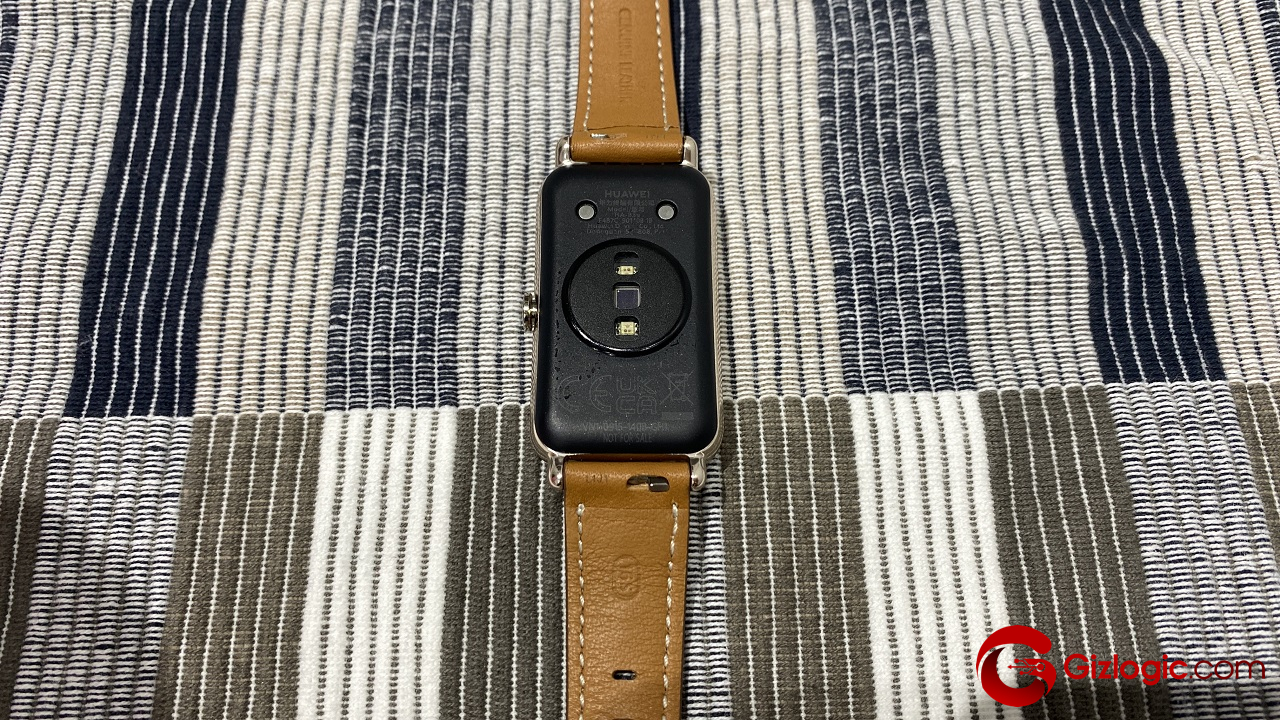 Technical characteristics of the Huawei Watch Fit Mini
Huawei Watch Fit Mini
Dimensions
Colors
White / Brown / Purple
Endurance
Submersible up to 50 meters deep
Screen
1.47 inch AMOLED 194 x 368 pixels touch
Camera
No
Gps
No
Connectivity and sensors

6-axis IMU sensor (accelerometer sensor, gyro sensor)
Optical heart rate sensor
Bluetooth 5.0 BLE, 2.4 GHz

Battery

Autonomy: around 10-14 days
Charging time: Less than an hour
Magnetic charging base

Compatibility

Android 5.0 or later
iOS 9.0 or later

Principal functions
Sleep monitoring, physical activity meter, SpO2, monitoring of almost 100 sports, continuous heart rate monitoring, alarms, notification of emails and calls, among others
Box contents

1 x Huawei Watch Fit Mini
1 x Proprietary Charging Cable
1 x Manuals
I recommend it to you If you are looking for a cheap smartwatch, very complete and easy to use. Huawei has done a great job to offer you an ally on your wrist at a very competitive price. I do not recommend it If it is important for you to use GPS on the watch or if you want to be able to answer notifications, which are the two points where this model falters.
For all this, we awarded the Huawei Watch Fit Mini the silver.
PROS:
Comfortable and very beautiful design
Intuitive and visual app
Waterproof
Touch screen with enough information to not depend on the app
AMOLED color display
SpO2 meter
Complete sleep monitoring
We can customize the spheres
Almost 100 sport modes
Good value for money
Excellent battery
Very fast charging time
CONS:
We can't install apps
Notification management is not complete
Specific charger
Does not have GPS
It has no microphone